3.4 km.….Neelimala/meenmutty view point.
7.3km……Nestle India production unit. Cherambadi.
8 km…….Ambalavayal agro farm.
8.1……… Ambalavayal museum.
11km…… Kathanpara water falls.
11 km …. Phantom rock.
12 km…….Wentworth Tea Factory and Estate.Cherambadi .
13km……..Edakkal Caves.
13km…….Karapuzha Dam.
18km…….Jain temple.sultanbethery.
21km…….Chembra peak heart lake.
23km……..Wayanad Wildlife sanctuary,muthangai
27 km ……Soochipara Waterfalls.
31km……..Pookode Lake,
34km……..Chain Tree.
35km……..Lakkidi view point.
44km……..Banasura Sagar Dam.
51km …….Kuruvadweep.
72km………Thirunelli Temple.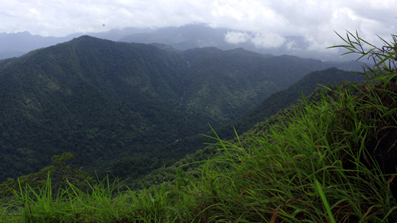 Neelimala/meenmutty view point.
Settled in the picturesque Wayanad region of Kerala, Neelimala serves as a major tourist attraction for nature wanderers and adventure seekers. The scenic vicinity of Neelimala opens numerous scintillating trails that go through coffee plantations, virgin forests and acres of flowery land. On reaching the top is the View point which offers a spectacular picture of the lush green downward slopes of the Western Ghats. Encapsulated within the arms of nature is the milky stretch of Meenmutti waterfall. The waterfall occasionally gets overshadowed with a thick covering of mist which not only adds to its milky contrast, but instils a feeling of being solitary in the mountains for the tourists. Neelimala being adjacent to Vaduvanchal serves as a popular trekking and camping site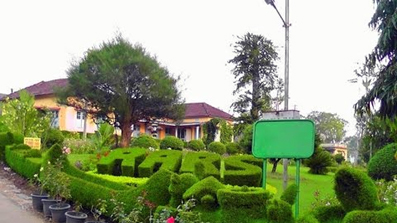 Ambalavayal agro farm
Ambalavayal is located at an altitude of 974 M above MSL, about 100 km. East of Calicut and 10 km. From Sulthan Bathery. The station enjoys a mild subtropical climate. The total area of the station is 87.3 ha and grows a wide variety of crops like coffee, pepper, rice including scented varieties, spices like ginger, turmeric, clove, cinnamon , tropical and subtropical fruits, summer and cool season vegetabeles. The station is assigned with the mandate of solving location, specific problems of horticultural and spice crops. Lead functions : Pepper and pepper based cropping in high ranges, cool season vegetables, hill paddy, soil and water management, subtropical fruits and tree spices, coffee based cropping system. Verification function : Essential oils, medicinal plants & ginger.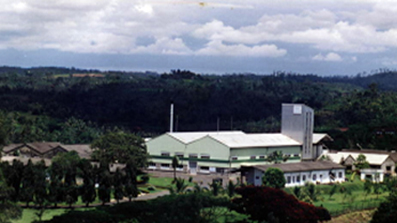 NESTLE PRODUCTION INDIA LTD
NESTLÉ India set up its first manufacturing facility at Moga (Punjab) in 1961 followed by its manufacturing facilities at Choladi (Tamil Nadu), in 1967; Nanjangud (Karnataka), in 1989; Samalkha (Haryana), in 1992; Ponda and Bicholim (Goa), in 1995 and 1997, respectively; and Pantnagar (Uttarakhand), in 2006. In 2012, Nestlé India set up its 8th manufacturing facility at Tahliwal (Himachal Pradesh).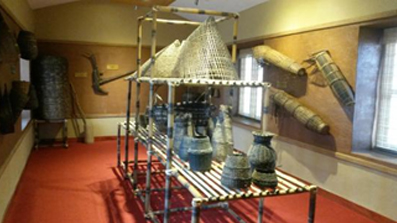 Ambalavayal heritage museum
The Ambalavayal Heritage Museum, the archaeological museum in Wayanad, has one of Kerala's largest collections of the remnants of an era dating back to the 2nd century A.D. The exhibits here are evidences of an advanced civilisation that existed in the mountains of Wayanad. The articles on display are a fascination for the historian, the archaeologist and the ordinary man alike. At the museum you can see articles as varied as clay sculptures, ancient hunting equipments like bows and arrows, stone weapons and other curios. The museum is situated about 12 km away from Sultan Bathery in Wayanad.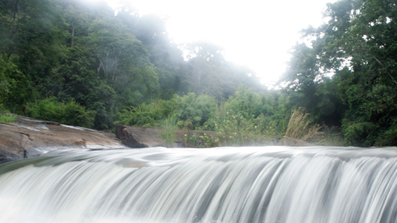 KANTHANPARA WATERFALLS
A beautiful waterfall situated about 22 km away from Kalpetta. Smaller than the Sentinel Rock waterfalls, the Kanthanpara Falls and its surroundings make an ideal picnic spot in Wayanad.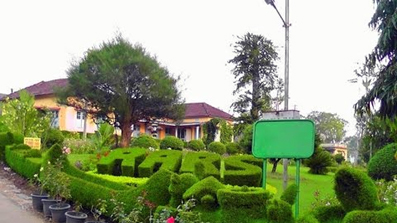 PHANTOM ROCK
Phantom Rock is one of the tourist destination close to Ambalavayal in the Wayanad district of Kerala.[1] It is an archaeological structure found seen rarely in the world. This rock is naturally resembles a skull, and thus it is known as Phantom Rock. This structure is situated 26Km away from Kalpetta and can be reached by trekking only. It stands at the height of 2600 feet above sea level. It is also known as "Cheengeri Mala". Edakkal Caves is also nearby.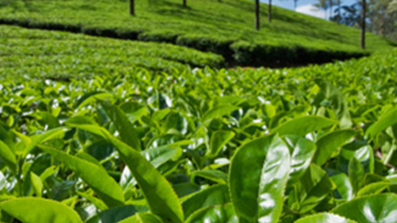 Wentworth Tea Factory and Estate. Cherambadi
Tea was first planted in South India during the 1800's. Initially tea was planted in areas seen as climatically similar to Assam and the Yunnan - primarily in the highlands. These were over the next fifty years extended to lower elevations and a new agro climatic environment for tea established. Harrisons Malayalam Limited, grows tea both in perhaps the highest elevation in the world as well as in low areas. As such, we are a producer of a wide variety of teas. Agglomerated over a half century through acquisitions of smaller companies and individual estates, Harrisons Malayalam's history is that of a pioneer explorer extending the boundaries of civilization.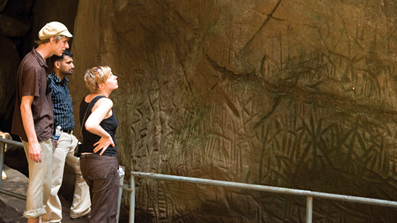 EDAKKAL CAVES
Edakkal Caves are two natural caves at a remote location at Edakkal, 25 km from Kalpetta in the Wayanad district of Kerala in India's Western Ghats. Kalpetta in the Wayanad district of Kerala in India's Western Ghats. They lie 1,200 m (3,900 ft) above sea level on Ambukutty Mala, near an ancient trade route connecting the high mountains of Mysore to the ports of the Malabar coast. Inside the caves are pictorial writings believed to date to at least 6,000 BCE,[1][2] from the Neolithic man, indicating the presence of a prehistoric civilization or settlement in this region.[3] The Stone Age carvings of Edakkal are rare and are the only known examples from South India.[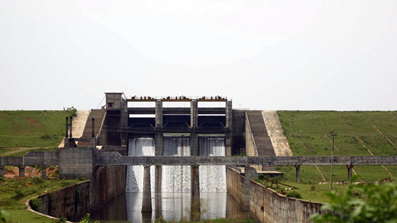 KARAPUZHA DAM
Karapuzha Dam located in the Wayanad district of Kerala, is one of the biggest earth dams in India. Karapuzha Dam is located in the greenish and natural regions of Wayanad, Kerala on the Karapuzha River, a tributary of the Kabini River.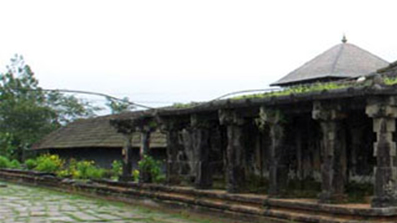 Jain temple.sultanbethery.
One of the most important among the many Jain temples in Kerala, the Bathery Temple in Sulthan Bathery is believed to have been built during the 13th century. Its design is strongly influenced by the architectural style of the then reigning Vijayanagar Dynasty. Another unique feature is the rather checkered history of the temple which first served as a shrine, next as a centre of commercial trade and finally, as the ammunition store or battery of Tipu Sulthan's army. The town, Sulthan Bathery, derives its name from that use.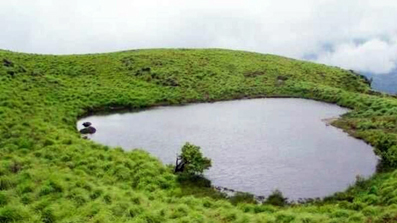 Chembra peak
If you are an admirer of soothing natural beauty and if you love to have an adventure trip, then Chembra Peak in Wayanad, will be a perfect stop for you. Eight kilometer south of Kalpetta, near to the town of Meppady, lays the highest peak in Wayanad, the Chembra Peak (2,100 m). Chembra peak adjoins Nilgiri hills in Tamil Nadu and Vallarimala in Kozhikode. From the town of Meppady you can reach the peak through walking. The peak is visible from almost all parts of Wayanad. This place is an ideal destination for trekking activities. You have to take prior permission from the Meppady forest office before going for a trek at Chembra Peak. The forest office will be open on all days. Overnight camping is not allowed at Chembra peak as there is a threat from lurking wild animals.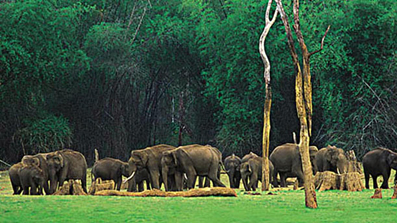 Wayanad Wildlife sanctuary,muthangai
Wayanad Wildlife Sanctuary was formed in 1973 and was brought under the Project Elephant in 1991–92. This sanctuary occupies an area of 345 km2. It is the second largest one in the state of Kerala. The sanctuary is separated into two disconnected parts known as the North Wayanad Wildlife Sanctuary and South Wayanad Wildlife Sanctuary. The area in between the two parts was originally a forest region, though it is now occupied majorly by plantations. In 2012, a tiger was shot dead by the Kerala Forest Department on a coffee plantation on the fringes of the Wayanad Wildlife Sanctuary. Many local political leaders applauded the killing of the tiger. Chief Wildlife Warden of Kerala ordered the hunt for the animal after mass protests erupted as the tiger had been carrying away domestic animals.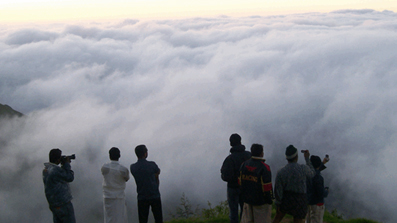 CHAIN TREE
The history of Chain Tree is associated with a local tribal called Karinthandan, who was killed by the British after taking his help to discover the routes through the ghat.During the colonial era, Wayanad didn't have any developed roads. Due to the heavy rainfalls it receive, this place was blessed with a lot of thick rain forests. Only the local tribals were aware of the paths through the forests.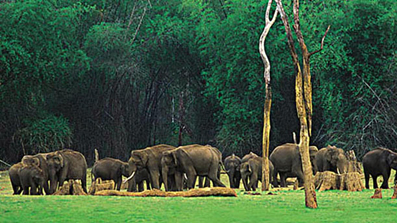 LAKKIDI VIEW POINT
Lakkidi is the gateway of Wayanad district of Kerala state, south India. Lakkidi is one of the highest locations in Wayanad. It is situated 700 m above mean sea level, atop Thamarassery ghat pass. Vythiri is the nearest town, just 5 km from Lakkidi.[1] Chain tree, Pookot Lake, Sight seeing point on ghat road and number of tourist resorts are within 5 km from Lakkidi. It is about 58 km northeast of Kozhikode district The lofty mountain peaks, the gurgling stream, luxuriant vegetation and the bird's eye view of the deep valley on the south, with its winding roads, are breathtaking. Three km from Lakkidi is the Pookot Lake, the natural fresh water lake, spread across 15 acres, one of the rare reservoirs of water in Wayanad. Surrounded on all sides by meadows and hills, it has become a favorite picnic spot. Lakkidi has a heavy rainfall with averaging 600–650 cm annually.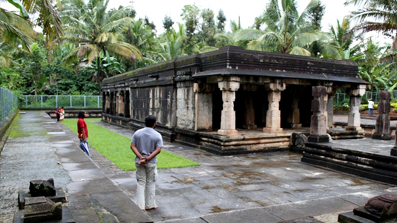 Thirunelli Temple
Thirunelli Temple (also Tirunelli) is an ancient temple dedicated to Lord Maha Vishnu on the side of Brahmagiri hill in Kerala. The temple is at an altitude of about 900m in north Wayanad in a valley surrounded by mountains and beautiful forests. It is 32 km away from Manathavady.. There exists documentary proof that Thirunelli at the time of Tamil Chera king Bhaskara Ravi Varma I (962–1019 CE) was an important town and pilgrim center in South India[citation needed]. In the dense jungles surrounding temple, the ruins of two ancient villages can be found. Noted historian V. R. Parameswaran Pillai in his book Thirunelli Documents states that this temple was once an integral part of the early recorded history of Kerala.